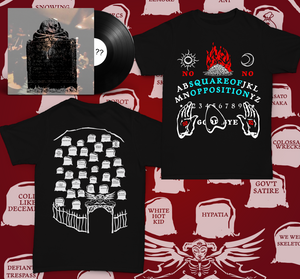 LVAC
Square Of Opposition - SofO curse tee (w/ FREE LP!)
Regular price
$15.00
$0.00
Unit price
per
Since day one, this label has brought an end to any band foolish/desperate enough to release something under it's banner. Sometimes it took a few months, sometimes weeks, and other times the band broke up before the records were even back from the plant. Hell, sometimes they broke up before the order even went to the plant. Long live SofO! Death to bands!
EACH AND EVERY SHIRT INCLUDES A 12" RECORD FROM A VICTIM OF THE SOFO CURSE! Snowing, Casual, Spraynard, Colossal Wrecks...they all fell to the curse and now you win.
Shirts printed by the LVAC on ringspun cotton tees (could be Royal Apparel, could be LA Apparel, could even be EiLo or Next Level).
[Please do not email me specific requests. I'm a spiteful shell of a man, I will ship you something else just to be a jerk. It's a super cheap deal, don't be a baby!]
---